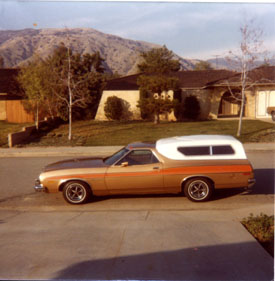 For ForSight Creations Owner and President Ron Jobson, it all started with a 1974 Ford Ranchero.
As a young marketing major at Cal State Fullerton in 1984, Ron needed some extra cash. So when his girlfriend's father offered Ron the opportunity to paint his office building, Ron accepted. Ron's payment? A 1974 Ford Ranchero.
Shortly thereafter, Ron saw an ad on the Cal State Fullerton campus that read: "Sign company needs installer. Must have brain and a truck."
Ron had a brain. He also had a Ranchero.
He responded to the ad. For the next six years, Ron learned the ins and outs of the signage and graphics industry with a small but rapidly growing sign company in Orange County. He also found an outlet for passionately blending his artistic abilities with a working knowledge of materials, finishes and fabrication methods.
By 1994, Ron was ready to start his own company. He launched ForSight Creations with a vision of blending top-notch design services and cutting-edge fabrication methods to consistently create dynamic visual communications.
Today, ForSight Creations works with clients in a variety of industries to produce some of the world's most recognizable sign projects, such as the world-famous Grauman's Chinese Theatre in downtown Hollywood. From large mixed-use developments to hospitals, hotels, restaurants, theatres, themed entertainment venues, city projects and corporate headquarters, ForSight Creations offers comprehensive signage and graphics solutions for any project.