Client: M.C. Gill Corporation
Location: El Monte, CA

Project Overview: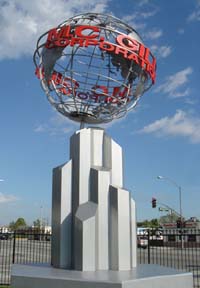 ForSight Creations was chosen to provide complete design/build signage solutions for the M.C Gill Corporation in 2002. The scope of work included a large scenic corporate icon that incorporated the client's name and logo into a dimensional spinning "globe", as well as a large main monument sign and a variety of smaller monument signs throughout the corporate campus.

After a basic initial meeting with the M.C. Gill team to discuss signage possibilities for the campus, ForSight owner and creative director Ron Jobson took things a step further by concepting and designing a large iconic spinning globe that would act as an impressive brand builder… and that would also reflect the global nature of the corporation itself. The client loved it.

ForSight then created a comprehensive 3D computer generated rendering before ever beginning fabrication. The "globe" structure itself was eventually fabricated from steel, while the dimensional continents were made from fiberglass and the letters from aluminum. The "honeycomb" shaped base was made from concrete and fiberglass to reflect one of the corporation's signature products – a lightweight honeycomb floor paneling used widely throughout the aerospace industry.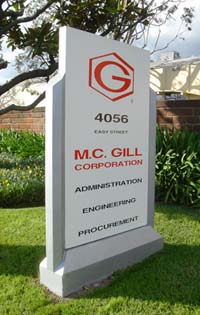 This shape was also integrated into the other monument signs. The M.C. Gill management team was especially excited that one of their core competencies was successfully and subtly integrated into the company's sign program.

The M.C. Gill Corporation is the world's largest manufacturer of honeycomb, high performance floor panels, cargo compartment liners and original equipment for passenger and freighter aircraft. They are one of the largest producers of composite sandwich panels used in aircraft flooring in these markets.
They also excel in most other types of reinforced plastics including flat panel composites, interior panels for creating structures such as aircraft galleys and bulkheads, honeycomb core and related products. They can be found online at www.mcgillcorp.com.

Click here to go to the Sign Gallery and see all images for the M.C. Gill project.