Client: Sunset Gower Studios
Architect: Jeff Cooper Architects
Location: Hollywood, CA


Project Overview: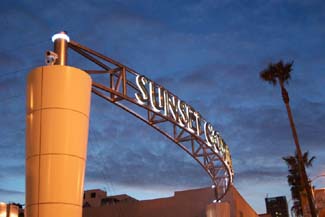 When one of the industry's most well-know television and film studios was planning a major building phase and renovation in 2004, ForSight Creations was chosen to produce an unforgettable entrance marquee. Located on Sunset Boulevard in downtown Hollywood, the massive radius entrance marquee sign spans more than 54 feet and serves as an impressive brand-builder for the studios.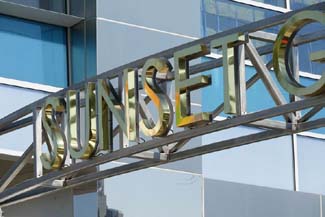 ForSight Creations worked with a team of architects, engineers, and contractors to custom build the expansive stainless steel structure. The "Sunset Gower Studios" letters were fabricated from polished brass and then backed with a stainless steel "backer-plate" to create a "halo" lighting effect using LED technology. The light rings on either end of the marquee structure were each fabricated from a solid piece of frosted acrylic and were also illuminated using LED technology. The entire structure was assembled, transported and installed as one piece.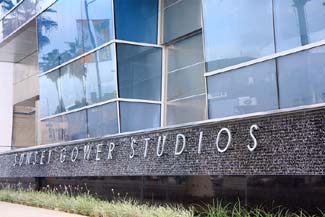 ForSight also designed, produced and installed the address numbers and dimensional letters that were "pin-mounted" on the property's granite waterfall feature that faces Sunset Boulevard. The individual letters in the waterfall were hand-cut from 1" material and received a chrome finish for maximum protection against the elements in the water feature.


Sunset Gower Studios, located on Sunset Boulevard in downtown Hollywood, has been a production hotspot for some of the industries most well-known feature films, television shows, and commercials since 1925. The current stages are actually the former home of Columbia Pictures. Today, Sunset Gower Studios consists of more than 415,000 square feet of stage space, practical locations, sound editing, support and office space, as well as a new 6 story post-production facility. For more information on Sunset Gower Studios, visit them online at www.sgsandsbs.com.
Click here to go to the Sign Gallery and see all images for the Sunset Gower Studios project.